The outdoor window shading ensures a healthy indoor climate and reduces air conditioning costs.
There are very good reasons why exterior shading makes more sense than interior shading. And they are not only of a construction physiological nature. STOBAG will explain what you need to consider.
Counteracting the greenhouse effect with exterior shading
Are you thinking about shading your house or conservatory and are looking for the best solution? Then you must first be clear about some constructional effects. In summer, the construction of buildings and rooms has a significant influence on the development of room temperature. This starts with the ratio of window area to room size and ends with the construction of walls, floors and ceilings. Why is this relevant? Sun rays that penetrate the room via the window glass, i.e. the so-called short-wave sun rays, heat the exposed building components. The extent to which these can heat up depends on the construction method and the ability to absorb and release heat energy. As the room heats up, the short-wave sun rays that have passed through the glass pane are converted into long-wave heat rays. There's no going back through the window for them. Something that we all don't like in the Summer happens: the long-wave part of the radiation remains in the room and causes the greenhouse effect known to us all with the rising temperature of the room air and the room-wide heat-storing components. Only when the building components cool down, for example at night or through a power-intensive air conditioning system, do they release their heat back into the room air, which can then be ventilated.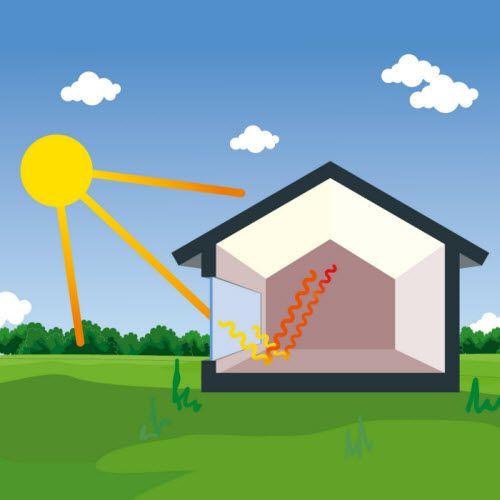 Shading on the outside of the window prevents heat accumulation
Exterior shading is a perfect solution for a good and healthy indoor climate. The sun's rays first hit the sun protection. It absorbs most of the rays and is then heated by them. The remaining sunlight either passes through or is reflected. This means that the long-wave rays emitted by the solar shading are produced before the glazing. The room remains protected from strong heating. And that without having to be completely darkened. The shading outside the window also offers maximum efficiency thanks to an automated control system that adapts to the time of day and solar conditions. It guarantees optimized use, even when you are not at home.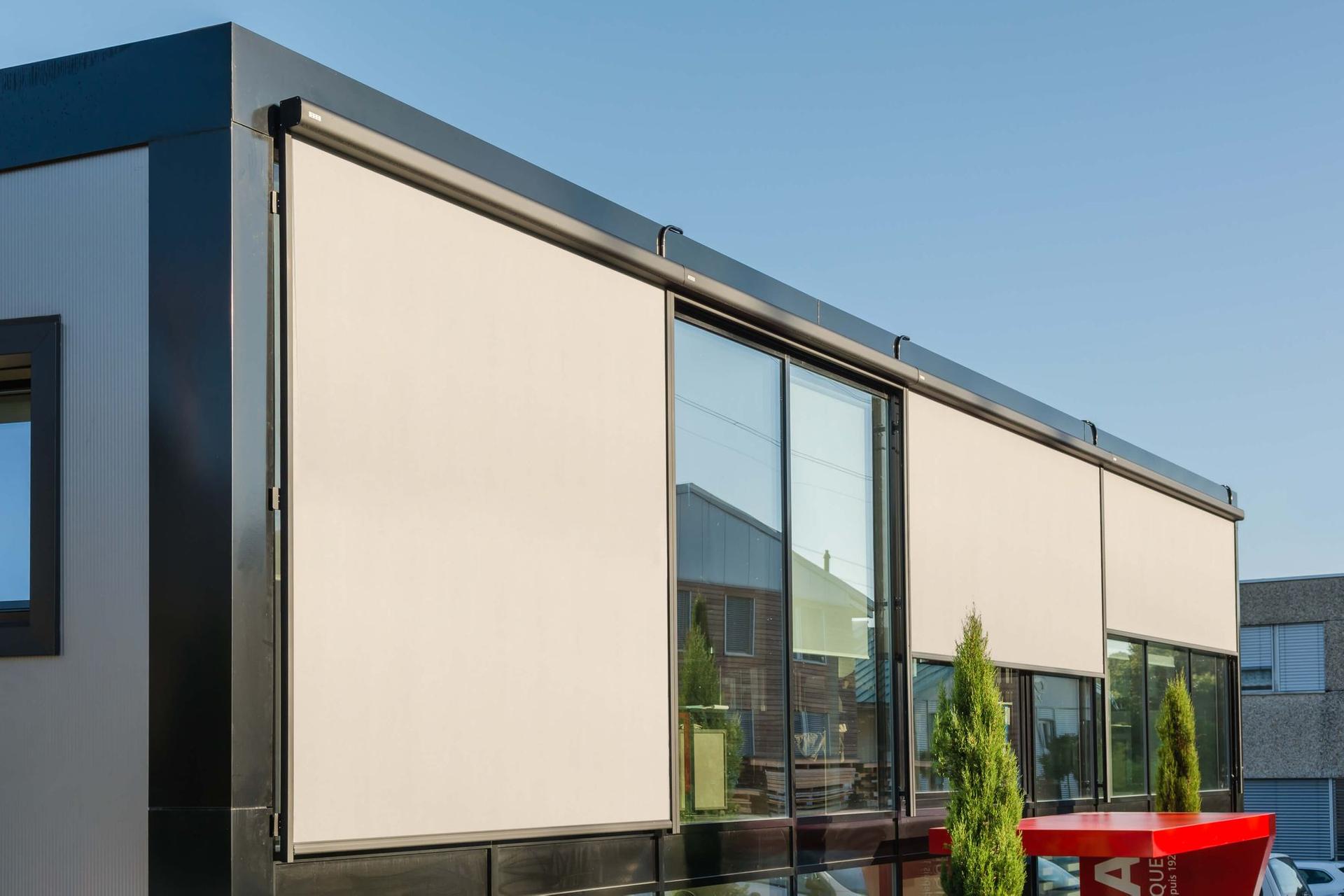 By the way: No conservatory without outdoor window shading
The conservatory captivates with its large glass surfaces in which the greenhouse effect is particularly pronounced. Winter garden shades, whether horizontal or vertical, should therefore always be mounted outside. Underglass shades for glass roofs only make sense if they are open at the sides.
Interior shading only has advantages at first glance
Interior sun protection is often cheaper than a solution for outdoor use. In addition, wind, weather and seasonal temperature fluctuations can hardly harm it and the protection is easily accessible for cleaning, individual adjustment or replacement. On the other hand, interior shading takes up space - for example on the windowsill. And pet attacks are often not uncommon either. For historic buildings, however, interior sun protection is usually not an alternative.  But watch out: For the most satisfying effect possible, the right material and color of the interior shading are essential. Exterior shading, on the other hand, of course has no influence on the design of a room, but it does significantly increase the quality of your living space and your sense of well-being. Function-oriented and matching the building, they can set color accents, lighten up facades and sometimes even attract attention with lettering.
Outdoor window shading - STOBAG recommends vertical awnings, drop-arm awnings or folding awnings
There is an unbelievable variety of shades outside the window, whether for individual windows, entire facades or complete conservatories. However, the trend towards larger glass surfaces calls for ecologically and economically flexible solutions. In the Summer, the use of air conditioning systems should be reduced and in the Winter the heat in the room should even be retained better. Heat retention is a side effect of many shading systems that should not be underestimated. Of course, shading on the outside of a window or façade must be of a very high quality and be executed in the best possible way. It must withstand wind and weather, be easy to use and adapt to the size and design of the building. With innovative and award-winning sun and weather protection solutions from manufacturers such as STOBAG, you take no risks. STOBAG, for example, recommends three variants for the exterior shading of windows, facades and the vertical exterior shading of conservatory sides.
Vertical awnings - they are guided vertically on a rail
Drop-arm awnings - they are extended and stabilized
Display awnings - a combination of vertical and drop arm awnings
Vertical awnings are a perfect solution for shading individual windows and all-glass facades: Covered with textile, they make a significant contribution to reducing energy consumption in buildings. Architects make use of this advantage and also use facade shading as a design element on buildings. Vertical awnings are available in a wide range of colors and fabrics, including black-out fabrics. They are inspirations for facade planners and architects. Available for practically every area of application - with a filigree wire rope track or with a wind-resistant, internal fabric track with zipper principle.
Drop-arm awnings and display awnings are a special version of vertical awnings. They allow the air to circulate well when the window is open. Due to a continuously adjustable angle of deflection from 0 to 170 degrees, the incidence of light can be individually adjusted to the outside and inside. Drop-arm and display awnings are not only suitable for windows on facades, but also provide a pleasant room climate in the conservatory as well as perfect exterior sun and privacy protection. Of course, there are also drop-arm and display awnings in a wide variety of designs, colors and fabric qualities. For maximum function and the perfect look.
Would you like to find out more about outdoor shading? You can find a STOBAG dealer near you here.
---
Exterior sun protection keeps it cool and still ensures warmth
Not only since the new version of the EU Directive EPBD (Energy Performance of Buildings Directive) from 2018, which deals with the overall energy efficiency of buildings, exterior shading is regarded as an economically and ecologically interesting alternative or supplement to air conditioning and the like. In the Winter, outdoor window shading also has a positive impact. Because it significantly reduces the heat losses of windows. The layers of air created by the sun protection increase the heat transmission resistance.