Basic care and maintenance ensure a long service life
Whether you have joint arm awnings, cassette awnings or pergola awnings - we will show you how to quickly and effectively put away your sun protection for Winter and prepare it perfectly for the next Summer season. In order to enjoy your awning for a long time, you should clean it thoroughly once a year and maintain it if necessary. Why not complete this work right before storing if for the Winter?
Fall is changing the leaves, the wind blows vigorously through the garden and maybe you have noticed the first frost has covered your plants. It's time to prepare your patio and garden for Winter. Protect flower beds, plants and cuttings, mow the lawn one last time and remove the leaves, empty drains and watering cans, move garden furniture and frost-resistant pots into Winter storage. And that's not all.
A patio is winterproof if permanently installed or flexible elements are secured, treated or cleared in such a way that wind, frost, cold, rain, hail, ice and snow cannot damage them. So how do you winterproof your awning? The good news is that you don't really have to protect a classic awning from the influences of Winter. Because of the way it is mounted, a joint arm, cassette or pergola awning is completely retracted and winterproof. It is obvious that this is particularly well ensured with the so-called cassette awnings: Mechanics and fabric are completely stored away in a corrosion-resistant aluminium cassette, which effectively protects against environmental influences. This is why awnings with cassettes are generally considered to be particularly durable.
This is especially important when you put your awning away for the Winter!
Our most important tip before you prepare your awning for Winter: Allow the awning fabric to dry properly before the last retraction. Otherwise there is a risk of mold and mildew stains. They can be difficult to clean.
Free-standing shading systems like STOBAG' OMBRAMOBIL awnings are not structurally protected like most awnings that are mounted on a wall or under a ceiling. But don't worry, there are simple solutions for storing them for the Winter. STOBAG, for example, has developed extra protective covers for free-standing awnings. Every STOBAG specialist dealer can provide you with a suitable solution. These protective sleeves keep the retracted free-standing awning dry and reduce the surface susceptible to wind.
These few tips will give you the most important tips for putting your awnings away for the Winter. But keep in mind: Maintain your awning properly, keep them clean of of ugly stains and your sun protection will last much longer. The same applies to the mechanics. We at STOBAG recommend that you thoroughly clean your awning once a year and have it serviced if necessary. The ideal time for this is before you store your awning for the Winter. Why is that?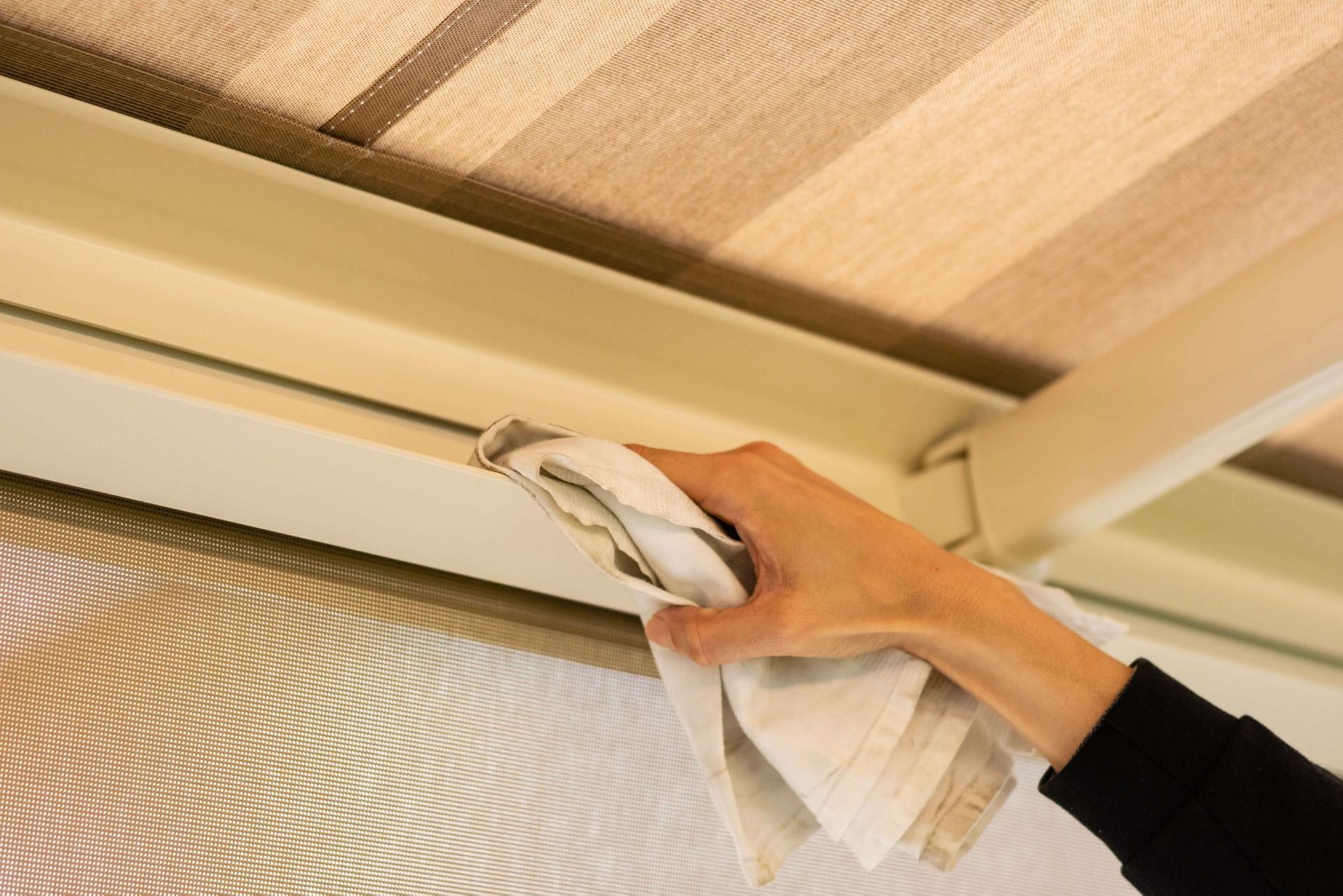 First clean, then put your awning away for the Winter
Come Fall, your awning has had an eventful Summer. This is especially noticeable in the slats. Bird droppings, pollen, leaves and other dirt have left their marks. If you want to enjoy your sun protection for a long time, you have to get to work. Be sure to clean the entire awning, not just the fabric from above. Thoroughly clean the frame and the technical components. But beware: electrical components can not come into contact with water. Danger of short circuit exists. You do not need any aggressive chemicals and certainly no high-pressure cleaner to clean the slats. This only damages the waterproofing. Also keep your fabric away from the washing machine. Simply sweep or vacuum dry debris first. In the case of heavy soiling, clean your awning before storing it for the Winter with a soft brush and about 40 degrees warm water with a mild detergent dissolved. A five to ten percent mild detergent solution is ideal. Please be sure to rinse the cleaned areas thoroughly with water so that no detergent residue remains in the fabric - a water hose recommended for this.
How to clean heavily soiled awning slats.
Keep the mechanism operating smoothly
Before you put away your awning for the Winter, you can also maintain the joints of your awning with a lubricant from a spray can. But beware: Do not apply too much, otherwise the awning fabric will stain. Or simply leave this work to the professionals as part of their maintenance. STOBAG, for example, has a widely distributed partner network for this purpose.
When is the best time to winterproof your garden and protect your awning?
Remember this very simple rule of thumb: your garden, patio and awning should be winterproof before the first frost. This will prevent you from having to carry out unpleasant work such as cleaning the awning with water in inclement weather. In our latitudes, the first frost often arrives as early as mid to late October. By then at the latest, all measures should have been completed and your awning should be dry and retracted. Are you looking for more information on how to clean your awning? Take a look at our latest blog post. Have fun and good luck!